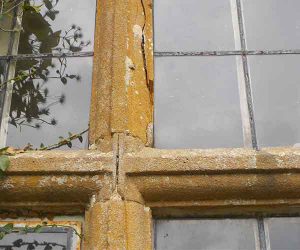 Lime Mortar Repairs & Conservation work is usually completed on listed buildings and requires careful consideration due to the sensitive nature of historic sites, etc. We can work together with Conservation Officers, Architects, Archaeologists and other conservation professionals to ensure that perfect results are achieved.
Stonework
The stonework to the windows is soft natural sandstone which is a sedimentary rock laid down in layers with clay fault lines.The majority of your windows are a Ham-stone, the stonework varies in condition which is due to the stone used, the level of natural faults present, damage caused by expanding corrosion and general weathering down to exposure to the prevailing weather.
There are areas of friable stone where the face of the stone has broken away which tend to be down to weathering including freeze and thaw of moisture under the surface. There are quite severe splits in some stonework which is down to the clay faults laminating the stone and breaking away. Much of the pointing is in a cement based mortar which is much harder that the stone and when if moves and breaks free takes stone with it.
Lime Stone
Lime mortar today is primarily used in the conservation of buildings originally built using lime mortar, but may be used as an alternative to ordinary portland cement. It is made principally of lime (hydraulic, or non hydraulic), water and an aggregate such as sand. Portland cement has proven to be incompatible with lime mortar because it is harder, less flexible, and impermeable. These qualities lead to premature deterioration of soft, historic bricks so the traditionally, low temperature fired, lime mortars are recommended for use with existing mortar of a similar type or reconstruction of buildings using historically correct methods. In the past, lime mortar tended to be mixed on site with whatever sand was locally available. Since the sand influences the colour of the lime mortar, colours of pointing mortar can vary dramatically from difference counties.Etc Ham Hill-Stone – Bath Stone.
We use Luke Grafton on Stonemason Conservation Projects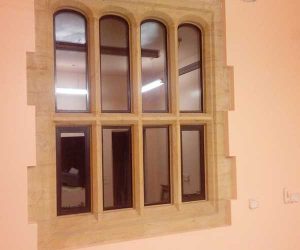 Luke Grafton Stonemason Limited is a well-established business of over 25 years, based in Somerset in the South-West of England.
We have worked all over the United Kingdom on many projects of various sizes and have also travelled further afield to places such as Hong Kong, the United States of America and France.
As part of our work ethic, we work closely with our customers to offer a unique Design, Cutting, Carving and Fixing service; tailored to the clients particular needs and requirements from a hand-carved date stone to a complete Gothic-style mansion.
We specialise in using traditional methods and materials, carefully combined with a more modern approach to every job. Typical materials we use, (but are not limited to) range from lime mortars and plasters to limestone such as Ham Hill Stone, Bathstone, Portland Stone, etc.
We can also incorporate more modern masonry techniques into a project, employing methods such as the Helifix system, stainless-steel reinforcement and resin repairs as and when required. We can also introduce modern stone cleaning methods to revive old stone-work using JOSS/DOFF and Nebulus cleaning systems. We also specialise in gravity-grouting.
Additionally, our own sawing and carving facilities enable us to work to shorter lead times, which in turn can help speed-along the progress of many jobs. This way, we are also able to closely examine the stone as we cut it to ensure that the customer is getting only the very highest quality of finished materials for their project.
Whatever your masonry needs, Luke Grafton Stonemason Limited is able to help. Please take the time to browse through our website where you can find more detailed information about our Products and Services as well as contact details.